Top 5 Attractions in Australia You Can't Afford to Miss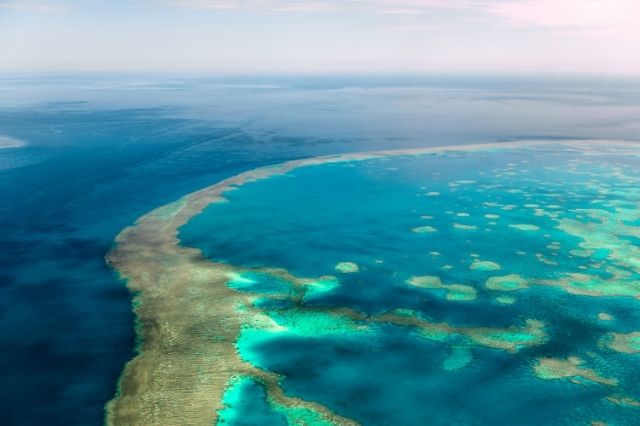 If you have recently moved to this beautiful island continent or merely consider it a vacation destination, this article will help you immensely plan your trip.
We have discussed a variety of places, and while there's everything for someone, we will start with the first thing that comes to our mind when we think of Australia. You guessed it right, the great barrier reef!
The great barrier reef
It is a fact that the Great Barrier Reef can be seen from outer space. So a visit to Australia would be incomplete without a snorkeling session among one of the largest living communities of corals.
The Great Barrier Reef Marine Park was built in 1975 to protect the largest ever swathe of an ecosystem. Today, it features one of the seven wonders of the world.
You can easily cover this place in two days, but if you have more time and would like to absorb the spirit of the town, then it is highly recommended that you stay there for at least four days.
The year-end Australian music festival
For those who love to groove, this destination offers that and much more. A trifecta of festivals awaits anyone who visits this place, situated in the state of South Australia.
An event that you should have on your bucket list as they have a music festival planned in addition to a Food and Wine festival. The three events will run simultaneously, giving your senses an indulgence they have never received before.
You don't have to take my word for it, make your own decision about the Australian Music Festival planned for the seventeenth of December. A date helps you make a more solid plan.
The snuggled wonder of The Bondi Beach
A beach off the coast of Sydney, it is a fifteen-minute drive from the city center and a host to adventure seekers and landscape aficionados, among other beach enthusiasts.
Any time of the year is a great time to be there; however, if you are keen on surfing and want to witness a surfing event, the ideal time to be here would be around Year's Eve or even Christmas.
You can't miss the diversity of The Fraser Island
A world Heritage site, K'Gari Island is also known as Fraser Island. Here you are surrounded by sea across a seventy-five-mile beach line, but the real beauty of the place resides within and as you go further inland.
You're bound to have an experience that you'll never forget soon. But first things first, you will need a four-wheel-drive which can be taken to Fraser Island on a ferry, which leaves from both Hervey Bay and Rainbow Beach.
You can go on whale-watching excursions or hike through the natural terrain to discover hidden lakes and oases of sorts.
Great Ocean Road and a drive that will always bring a smile
Known for its great surfing beachline, this spot attracts enthusiasts and Experts alike, making for a great learning experience for anyone who wants to go there and learn or merely absorb the great display of surfing that can be witnessed. Head to Torquay, and you will come across a surfing town that is alive, any time of the day or the night.
However, if you have an inclination toward natural wonders, then the rock formations at the Port Campbell National Park are bound to take your breath away. Also known as the Twelve Apostles, these rocks are the result of weathering from wind and water at phenomenal speeds over a long period.
Final Words
In summation, all I'd like to say is that Australia is the perfect blend of nature intermixed with urban settlements and calls to our desire to assimilate both forms of lifestyles without choosing between the two.
What may have once started as an adventure trip is now long becoming the destination chased by most people who are working remotely and having adventures on the go.
But even a well-planned vacation can satiate us. It is just about how much time and effort is spent planning a well-deserved trip.
A Perfect Budget Maldives Honeymoon Trip: Peace, Tranquility and Love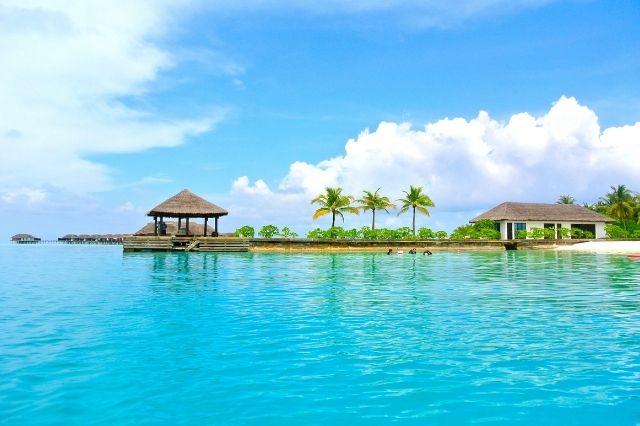 Maldives is a favorite honeymoon destination for all couples. The blue sea covering the islands provide majestic views and a lot of fun activities for anyone who goes there. Most famous are the overwater resorts in Maldives that have their own separate islands where you feel isolated in the best way possible. Maldives can make you feel like you and your partner are the only two people in this world and that romantic feeling never goes away. But with all its luxury, Maldives can also be quite expensive.
There is so much to do and so many places to go, but everything costs a lot of money. People believe you can only go to Maldives if you have a big budget.
While there is some truth in that, there are multiple ways you can enjoy a wonderful vacation in Maldives without squeezing out every last penny from your account and we are here to tell you how.
Overwater Bungalows are not the only place to Stay
As unbelievable as it may sound to you. The Overwater Bungalows are not the only places of residence for tourists in Maldives. While those are the more popular ones, you can find there are multiple resorts and hotels in the city that are just as nice with much cheaper prices. The hotels also provide delicious buffets and are just as private. If you want to go for some water activities, the hotels will assist you in that too.
The hotels really take care of their clients and you would never feel like you are missing out on any luxury as you stay in the fabulous rooms provided for much cheaper prices. Maybe you have to walk a few steps to get to the water, but that is not the end of the world, the sea is just as beautiful here as it is in the overwater bungalows.
So do not be disappointed if you do not have the budget to stay in one of those luxurious villas, you can still have a lot of luxury and privacy at much lesser price with Maldives honeymoon package and who would not opt for that.
A dollar goes a long way
When you are in Maldives, one thing that you have to really take care of is that you carry US Dollars with you. This is the preferred currency that is accepted almost everywhere. Whether you want to book a hotel or buy something from the streets, a dollar will go a long way and it would be helpful if you carried your money in dollars as you walked around exploring.
Sometimes online payment can be an issue and other currencies are not that easily accepted here. So to be safe and sure, carry your currency in dollars and make a budget so you do not end up spending more than you wanted. When booking Maldives Tour Packages, you can look for cheaper options for everything and pay in dollars once you get there. Do some research and it will go a long way as you try to find your way through the islands and try to enjoy this special vacation, there should not be anything that stops you from having the best.
You do not need a private beach to have fun
Beaches are the same everywhere and the water activities are fun on every shore. If you stay in the city, there are multiple beaches for you to go to and really enjoy the scenic beauty of this place that everyone keeps talking about. Now you might be wondering, that in the city you have to dress modestly and how will you have fun without that two piece dress? Well there is a solution for that too.
There are private beaches in the city that are especially for tourists to enjoy. And you can dress however you like there. You do not need to be at a private island for everything fun. The private beaches give you just as much fun and you get to explore just as much from the city, so be the free spirited birds wherever you are because there is no one to stop you. Another amazing thing is that even though you are not allowed to drink in the city, your hotel can still provide you with some beverages inside its premises.
But be respectful and do not make a mess and disrespect the culture there because not only is it rude but can also get you arrested.
Sunsets are pretty everywhere
Just like the beaches, the sunset does not change whether you are on a private island, on a city beach or in your hotel. They do not cost you any money and they are one of the most romantic things that nature offers to us every single day. So hold hands as you watch the sky changing colors and fall in love over and over again with every sunset, every day.
There is something gorgeous about sunsets that you can never get enough of and when you are somewhere as beautiful as Maldives, they just hold a special meaning and become even more magical. The golden hour is also perfect for amazing pictures and you can click multiple for that special instagram post that will get everyone jealous.
A vacation on a budget is not impossible, it is just as wonderful as you want it to be and as you walk through the streets of the city, you would realize just how awesome your trip is.
Take a closer look at the city life
Sometimes traveling on budget can actually be more fun. While everyone is stuck on a private island, you actually get to explore the country that you are visiting. You get to see the culture up close. You get to eat the local cuisine at local restaurants and buy a souvenir from the local shops.
Meet the people and talk to them about anything and everything. Take a closer look at the culture and the way of life of the locals in Maldives. You will find interesting new things everyday. The only requirement is that you dress modestly and behave appropriately. Maldives is a muslim country and it is very strict when it comes to alcohol.
So if you are not crazy about your liquor and do not need a bottle of tequila on every day of your vacation, you would fit in just well in the city. So, enjoy the vacation in the best way possible without draining your bank account because no matter what people tell you, Maldives can be really budget friendly.
5 Delicacies You Must Try On Your Trip to Sydney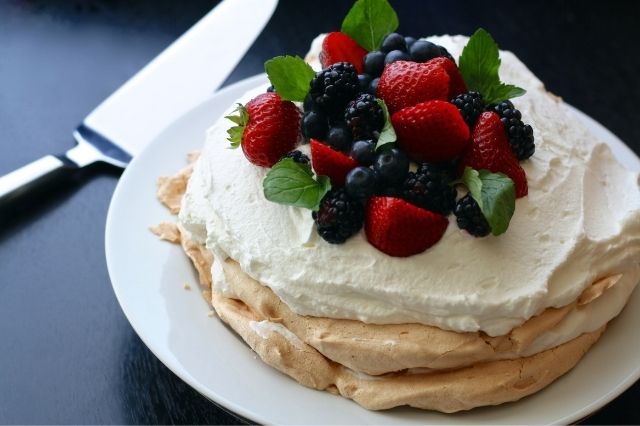 When we talk about Australia's Sydney, we all think about the sultry beaches, the wines, and the kangaroos, but seldom do we talk about the food that it offers.
Aussies take their food very seriously and the fact that cultures from across the globe go there and reside, provides for a lot of healthy competition, ensuring that only quality wins the race.
All that being said, back in Sydney, you will find food from various cultures and cuisines easily and readily available, but if you are choosing Australia as your next destination for a holiday, nothing will bring more joy to you than the Classic Australian Dishes, which you must-try during your stay in Sydney. There is no great vacation, without great food, right?
So, dig in to explore a few must-try dishes while exploring the Emerald City, Sydney!
1. Meat Pies
Despite so many people making a shift to Veganism, when we talk about Australian food, meat stands right at the center of it. That's why one of the most talked-about delicacies of food in Sydney is Meat Pies.
They are one of the most commonly eaten foods in Australia, and people prefer to eat it along with drinks. You can also pair it with a glass of beer or binge on it as starters, before heading towards the main course.
As the name suggests, meat is the main ingredient in meat pies, along with onion, gravy, mushrooms, and potatoes. Further, there are different choices of meats available for you to explore.
2. Pavlova
Was it too early to introduce a dessert on the list? Never mind, but for all the sweet tooth-ies out there, Pavlova is one of the most loved desserts across Australia, and in fact, is Australia's National Dessert!
By definition, Pavlova is a meringue-based cake topped with whipped cream and seasonal fruits, but every local eatery and bakery would have its own version of the Pavlova. You can directly walk into a bakery or eatery and ask for one, or buy a Pavlova base and make it on your own.
3. Barramundi
For those who are not familiar with it, Barramundi is the aboriginal name for a large silverfish, found in Australia and the Indo-pacific.
In most restaurants, this fish is cooked in classic Australian style and they pair it with roasted veggies alongside a salad. In my opinion, it is a complete meal, which would keep you full for hours. So, find best restaurants in Sydney, book a table and make sure you try this Aussie special!
4. Lamington cake
I don't know about you, but Aussies are very particular about their desserts and that's why here's another dessert that you can't try when you're in and around Sydney.
Lamingtons are Australia's National cake and they are originally soft, square, sponge cakes, which are filled with cream and jam. They are super delicious, and not just that, they are also covered with chocolate icing and dusted with coconut shavings. They are best paired with tea or coffee. Walk straight into any café, for breakfast, and have this famous Aussie delicacy to start your day right!
5. Kangaroo Meat
Do Aussies eat their national animal? They sure do, and it might seem weird, but all your doubts will surely go away once you eat Australia's very own Kangaroo meat.
It is extraordinarily delicious, low in fat, and is found in the form of Kangaroo steaks, sausages, burgers, and much more. They are Australia's Authentic dish, only available here, and we are sure you will love it if you have it in classic Australian cooked style.
Over to you…
Of course, there is more to Australian food than what I've compiled in this list, but the points mentioned above are some of the top picks!
All that being said, there is no need to restrict yourself to these choices, you can always go out and explore. After all, you never know what will excite your taste buds like never before.
Australia's Sydney is filled with fancy restaurants, cafés, and eateries, all to welcome you with open arms. So, while you're still there, go all-out on the food, trust me, it's worth it!
5 Places You Can Visit with Your Dog in Australia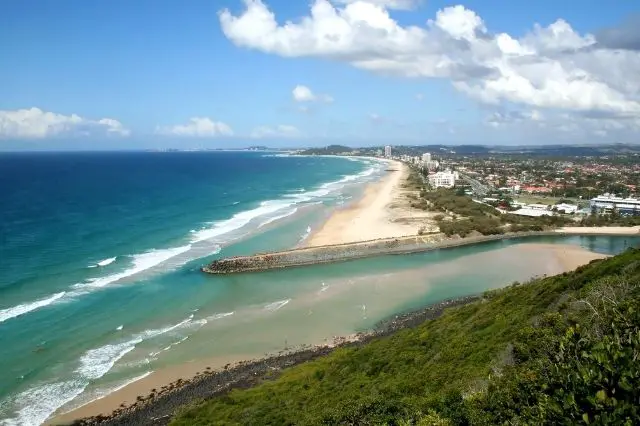 Things are finally getting back to normal after what seems like a whole lifetime of locking down at home. But, for Aussies all around the country, getting used to the 'old way' is not as easy as it sounds.
During the long stretch of isolation, many people have found their soulmate, therapist, and a warm company in their furry little friend with four legs. And, no one likes traveling without their favorite company.
According to a study, almost 47% of Aussies take their dogs on holiday more than once a year. And, even before the current restrictions, searches for dog-friendly places were increasing exponentially.
Luckily, if you are a cynophile living in Australia, there are several choices for you to plan a trip with your doggies. To save you some time from hopping around the internet, we have made a list for you. Whether you're planning a weekend getaway or a Big Lap around Australia, this is the only list you'll ever need.
1. South Coast, New South Wales
South Coast is one of the best tourist destinations in Australia, with visitors coming from worldwide. Luckily, there are plenty of dog-friendly places near this beautiful beach: lodging, dog-friendly parks, cottages, and various other options.
Here, you will find a place like Shoalhaven. It is famous for offering all dog owners a diverse range of off-leash areas. Dogs are also permitted to roam the beach sand freely.
The Far South Coast is especially attractive for people traveling with their pups. The Bega Valley Shire Council has designated 11 beaches as 24-hour off-leash areas. All of the remaining council-managed beaches allow dogs on leashes.
2. Gold Coast, Queensland
There are many dog-friendly cafes, bars, walks, and off-leash beaches in the iconic southeast corner of Queensland for you and your dog to enjoy.
There are designated spaces where you can take your dog for a nice run or walk. Spit and Palm Beach both have 3-kilometer areas where you can let your dog run free.
It's the perfect way to lose the calories you ate at pet-friendly cafes like Dune cafe or Raw Espresso, which sells dog ice cream for your pooch. You should also visit the Gold Coast Regional Botanic Gardens. There is a large off-leash area on the western side of the park for your dog to enjoy some scenic beauty.
3. Great Ocean Road, Victoria
The Great Ocean Road is 243 kilometers of fun and sun. This is the best place if you are planning a road trip with your furry friend. Along with being one of the world's most scenic coastal drives, there are many pet-friendly cottages and bed and breakfasts throughout the area.
You can take your dog on a promenade into Peterborough township. There are also off-leash spaces at Port Campbell Recreation Reserve and Lakes and Craters holiday park.
You must also pay a visit to Ballarat Botanical Garden, located next to Lake Wendouree. Dogs are welcomed here to enjoy the pleasant and fresh environment and the garden's serene bushes.
4. Port Stephens, New South Wales
Port Stephens is perfect for a weekend getaway from Sydney or even a longer stay. This stunning harbor has something for everyone – whale watchers, swimmers, and especially dog owners.
There are designated dog parks and reserves where you can walk your pooch while admiring the beauty of Soldier's Point or Nelson Bay. In our opinion, out of all the beautiful beaches here, Bagnalls Beach is the one you will love the most.
The crystal-clear waters are always calm and great for small puppies. And, best of all, this place is completely off-leash, 24 hours.
5. Tasmania
Although it might be difficult to take your dog all the way to Tasmania, it is totally worth it. You and your pet can get some fresh air and get to meet new people.
This place has an active and enthusiastic dog-walking community. Needless to say, Tasmania has dog-friendly parks and beaches all over the island. You should visit the Port Arthur Historic Site.
It is one of few world heritage sites that allows you to go with your dog. But obviously, you need to keep your dog on a leash. You should grab a dog harness Australia to keep your fur baby safe and not violate any laws.
Over to you…
The best way to explore all the wonderful sites in Australia is with your furry little companion. While limited lodging options, transport restrictions, and dogs being banned from many places may discourage you, if you follow our recommendations, you will surely make a lifetime's worth of memories with your best friend.