Transforming your Space: A Guide to Redecorating your Home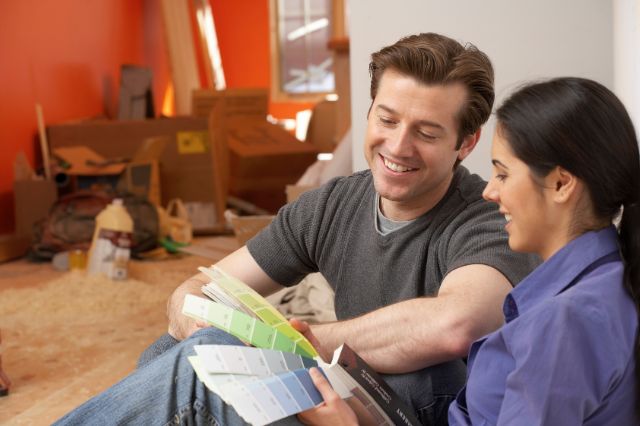 Are you tired of the same old look in your home? Want to give it a fresh new vibe without breaking the bank or starting from scratch? 
Look no further! We've got you covered with our ultimate guide to redecorating your space. 
From choosing the perfect color scheme to incorporating trendy decor pieces, we'll walk you through every step of transforming your home into a stylish and inviting living space that reflects your personal style. 
Get ready for some serious inspiration and let's dive in!
Deciding Which Furniture Pieces You Want
Your furniture will be one of the biggest factors in dictating the overall look and feel of your space.
Do you want a completely new sofa? Are you intrigued by egg chairs or loveseat chairs? If so, then you need to figure out how you can put them in your home and create the effect and design you have been looking for.
So, how do you go about deciding which furniture pieces are right for you?
1. Consider your needs. What kind of functions do you need your furniture to serve? Do you need a place to relax? A place to entertain guests? A place to work? A place to sleep? Keep your needs in mind when shopping for furniture and you'll be sure to find pieces that suit you perfectly.
2. Think about the overall look you're going for. What kind of aesthetic are you hoping to achieve with your space? Do you want it to be cozy and inviting? Sleek and modern? Warm and traditional? 
3. Keep in mind your comfort. Because a piece of furniture looks good doesn't mean it's going to be comfortable. Make sure to take comfort into account when choosing furniture for your home; after all, you want it to be a place where you can truly relax!
4. Pay attention to quality. Not all furniture is created equal; some pieces are better made than others and have higher-quality construction.
Deciding Your Color Scheme
Homeowners often get caught up in choosing a color scheme for their redecorating project without first understanding the basics of color theory. 
To make things easier, start by narrowing down your options to two or three colors that you really love. Once you have your palette, it's time to decide on a color scheme.
Monochromatic: A monochromatic color scheme uses different shades, tints, and tones of one color. This can be a very elegant and sophisticated look, but it can also feel quite sterile if not done right.
Analogous: Analogous color schemes use colors that are next to each other on the color wheel. This is an easy way to create a cohesive look because the colors naturally go well together.
Complementary: Complementary color schemes use colors that are opposite each other on the color wheel. This is a great way to add contrast and interest to a space. Just be careful not to use too much of either color or the space will feel unbalanced.
You've decided on a color scheme. Now it's time to start thinking about how you'll use each color in your space.
Will one be the dominant hue? Or will you use all of the colors equally? How light or dark do you want each shade to be?
Your color scheme choices are important. You want to incorporate your style and bring it to life with your color choices. Take your time in deciding, otherwise, you will be stuck with a color that you cannot stand.
Deciding Your Redecorating Budget
Your budget is a big part of redecorating. It isn't wrong to assume that you have more than likely had a budget for things in your home only to realize that what you have picked has gone over your budget.
As much as you may want that "beautiful table", if it is not in your budget, then you need to scrap that idea and move onto something that is more in your price range and not going to have you feeling worried about checking your bank account.
Have these questions in mind – How much can you afford to spend on new furniture, paint, and other materials? Once you have a clear idea of your budget, you can begin planning your transformation.
If you are working with a limited budget, consider shopping at thrift stores or online for secondhand furniture. You can also look for sales at local home improvement stores. 
When it comes to painting, try to stick with simple colors that won't require multiple coats. And don't forget about the little things – new hardware for cabinets and doors can go a long way in transforming the look of your space without breaking the bank.
Conclusion
Once you have everything you need to start redecorating, it is time to put it all together to create your new space!
It doesn't take much to transform the look of your home. It is very normal to start big and then try to whittle it down. Just keep in mind that a lot of the furniture pieces you may want can be found at a fraction of the price in thrifting and charity places.
If you cannot discover a look-alike, you can always try and find something as close as possible, it just takes some time and research!
Timeless Elegance: Column Radiators in Contemporary and Classic Homes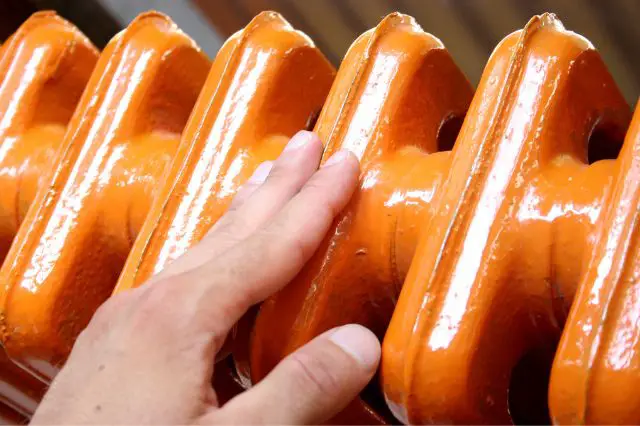 Radiators have come a long way from being mere heat-emitting appliances to becoming integral elements of interior design, from modern designs like the towel rail to designer options in bright colours. In the realm of home heating solutions, it's column radiators that have stood the test of time, offering both functionality and aesthetic appeal.
These radiators, with their classic design and modern adaptability, effortlessly blend into both contemporary and classic homes, enhancing the overall ambience while providing warmth. Let's delve into the world of column radiators and discover how they bring timeless elegance to a range of interior styles.
The Classic Charm of Column Radiators
Historical Origins
Column radiators, also known as columnar or cast iron radiators, trace their origins back to the 19th century. Initially designed as a practical heating solution, these radiators were known for their robust construction and efficient heat distribution. Their popularity grew rapidly, and they soon became a staple in homes, schools, and public buildings.
Design Aesthetics
What sets column radiators apart is their iconic design characterized by a series of vertical columns that release heat. This distinctive aesthetic evokes a sense of nostalgia, harking back to a time when craftsmanship and attention to detail were paramount. The elegance of column radiators lies in their ability to seamlessly blend functionality with artistry, making them a perfect fit for various interior design styles.
Contemporary Adaptation
Sleek Versatility
In a modern context, column radiators have undergone a transformation to suit contemporary tastes. While maintaining their classic charm, these radiators now come in various sizes, materials, and finishes, allowing them to complement a wide range of interior aesthetics. Whether your home boasts a minimalist, industrial, or Scandinavian design, there's a column radiator to match.
Efficient Heating
Beyond their looks, column radiators continue to excel in their primary function – heating. Modern column radiators are designed with enhanced heat efficiency in mind. Their advanced construction materials and design ensure rapid heat-up times and even heat distribution, creating a cosy living space while reducing energy consumption.
The Timelessness in Classic Homes
Heritage Homes and Beyond
In classic and period homes, column radiators seamlessly merge with the existing architecture. These radiators not only provide efficient heating but also enhance the authenticity of the space. Whether you have a Victorian, Georgian, or Edwardian home, column radiators can be chosen to match the era, preserving the historical charm while offering modern heating capabilities.
Creating Focal Points
Column radiators have the unique ability to serve as both functional elements and captivating focal points. Placed under windows, they provide an efficient solution for heat distribution while also framing the view outside. When positioned as standalone pieces, they draw attention, becoming conversation starters that add character to the room.
Installation and Maintenance
Easy Integration
One of the significant advantages of column radiators is their ease of installation. With modern manufacturing techniques, these radiators are designed to be lighter without compromising on durability. They can be easily integrated into existing central heating systems without the need for extensive modifications.
Low Maintenance
Column radiators, whether in classic or contemporary designs, are built to withstand the test of time. They require minimal maintenance, making them a convenient choice for homeowners. Periodic cleaning and occasional checks are usually sufficient to keep them in excellent condition.
In the ever-evolving world of interior design and heating solutions, column radiators stand tall as timeless pieces that effortlessly bridge the gap between classic and contemporary aesthetics. From their historical origins to their modern adaptations, these radiators exude an elegance that complements any space they grace. Whether you're reviving the charm of a classic home or embracing the sleekness of modern design, column radiators offer both warmth and style, making them an indispensable element of interior decor that transcends time.
Tips for Maximizing Space in Your Bedroom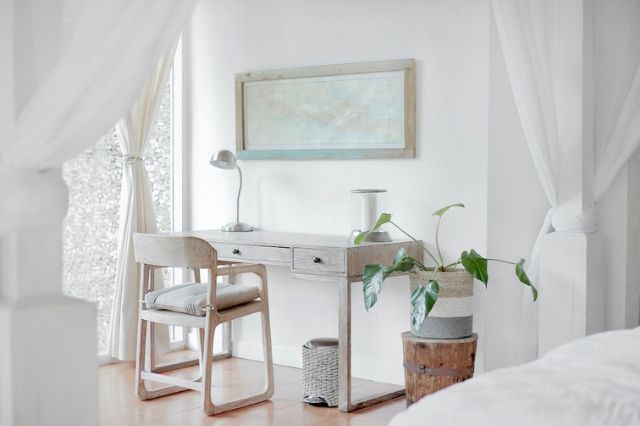 Home is a sanctuary. It's the place we retreat to after a long day, the homely cocoon of comfort where we can be ourselves. Nothing represents this comfort better than bedrooms—our very own personal space to unwind and rejuvenate. Yet, often, these places of retreat can feel cramped and cluttered, affecting the overall aura and mood of the space. Suffice it to say, no one enjoys a disorderly bedroom that feels too small.
This article focuses on practical yet efficient ways to maximize your bedroom space whilst adding an undeniable charm to the room. So, if you are looking to make the best use of your bedroom space and transform it into a tranquil haven, keep reading.
Investing in Thoughtful Furniture Pieces
A thoughtful approach to furniture can radically change the dynamics of a bedroom. A bed frame that feels less structured and is a little bit more open can make your space feel more airy and spacious. One great option to achieve this look is a rattan bed frame which enhances the aesthetic appeal of a space, while simultaneously making it seem larger as opposed to a larger, boxier bed frame with a more rigid structure.
The rattan lines are woven to create a geometric pattern that elevates the design and also adds unique character to the bedroom. Crafting a definitive fusion of style and utilization, such furniture pieces are inventive solutions to space constraints. They are designed with an intrinsic functional component that effectively contributes to clutter-free living, reinforcing the concept of minimalism. 
By incorporating lightweight furniture, you invest in making your rooms breezier. The key is to pay attention to what you buy. Instead of impulsively getting caught in the prettiness of a piece, take a moment to consider if it will satisfy your storage needs while blending seamlessly into the bedroom decor. The right furniture creates harmony by adding visual weight, thereby supporting the room's interior design scheme.
Implementing Clever Storage Solutions
Having a small bedroom doesn't mean you have to compromise on storage space. There are abundant clever storage solutions that contribute significantly to a clutter-free environment. As opposed to traditional storage solutions, these inventive options utilize overlooked spaces and embrace their underutilized potential. For instance, installing high shelves closer to the ceiling can create an illusion of height while taking advantage of unused areas.
Another worthwhile idea is utilizing the area under the bed for storage. It is a rarely used space with incredible potential to be transformed into a hidden storage compartment. Moreover, the implementation of hooks behind doors as additional hanging space is another intelligent use of the often-forgotten door surfaces.
Remember, the key to clever storage solutions is going against convention. Think vertical, not horizontal, look for spaces that haven't been exploited before, and make every storage solution a part of your room aesthetic. Imagination is the only limit to such home improvement projects.
Exhibiting Art and Mirrors
Art pieces and mirrors are powerful decor elements that can magnify the appearance of a room. Art, in general, adds an element of intrigue and sophistication while mirrors are lauded for their ability to make any space look larger. A well-placed mirror can create the illusion of depth in a room, making it seem more expansive.
When placing mirrors, consider opposing a window. The mirror would then reflect natural light, brightening up the room and presenting an illusion of extended space. Also, displaying mirrors in sculptural groupings rather than individually can introduce a creative flair to the room.
On the other hand, displaying art can personalize the room. Choose art pieces that speak to you, as they contribute to creating a cozy and inviting atmosphere. Remember, bedroom decor should evoke positive emotions and resonate with the room's mood, making the entire space seem bigger and more welcoming.
Using Light to Your Advantage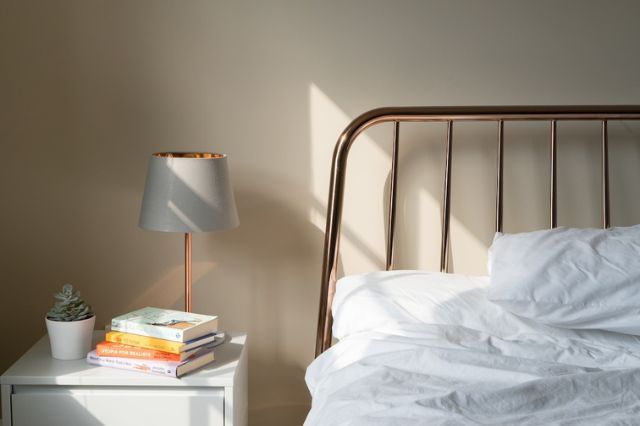 Lighting plays a pivotal role in setting the room's ambiance. In smaller rooms, natural lighting is an essential element to make the space look bigger. There's an abundance of lighting fixtures available in the market, making it easy for homeowners to pick one that complements their style and the room's overall aesthetic.
Strategically placed lights can highlight the room's features. For instance, illuminating the corners can make the room look bigger. Similarly, lights installed on walls can free up the floor space, providing an illusion of a spacious room.
To conclude, using lights to your advantage involves thoughtful placement and fixture selection. Well-executed lighting can transform your bedroom from cramped and gloomy to spacious and welcoming.
Being Smart with Color Choices
Color influences our perception. It plays a crucial role in making a room look larger or smaller. For small bedrooms, light, neutral hues are an excellent choice. They reflect more light and give an impression of spaciousness. Combining light walls with a darker ceiling can add depth to your room, creating the illusion of a larger room.
However, this doesn't mean you have to restrict yourself to whites and beiges. Pops of bold color used in moderation can add interest and depth. Consider using a bold hue in accessories, bedding, or a single accent wall. This will add depth without overpowering the space.
Playing with colors to maximize your bedroom space involves a balanced combination of light and dark shades. A careful mix and match can create an appealing, larger-looking room. You can choose lighter decor pieces and colors in order to brighten up the room but don't be afraid to experiment with color.
Maintaining Minimalism
Minimalism is a way of life. It's the practice of living with less, thus limiting the amount of clutter in our lives. In terms of interior design, minimalism pertains to the reduction of furnishings and objects to the bare essentials, fostering simplicity and grace.
Adopting a minimalist lifestyle means placing less emphasis on "things" and more on experiences and relationships. By including only necessary items in our bedrooms, we allow the room to breathe and the available space to flourish.
All in all, adopting a minimalistic approach to bedroom design leads to a clutter-free environment. It simplifies the decoration process, promotes serenity, and importantly, aids in maximizing space.
Adding an Element of Green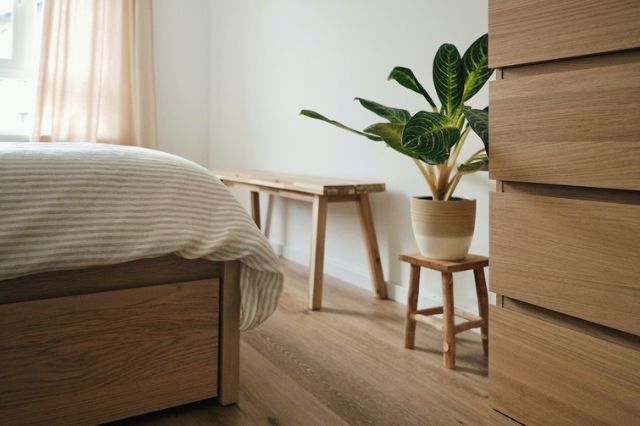 Adding indoor plants to a room can make it come alive. Greens can fill up empty corners, adding an interesting dimension to the room. Apart from their aesthetic appeal, plants have the potential to enlarge a room visually. If used correctly, they can act as effective space dividers.
However, when incorporating plants in bedroom decor, moderation is key. Overloading the room with greens can overpower the space, making it look smaller. Choose the right type of plant that complements your room's decor. Also, consider the lighting conditions of your space, as certain plants require specific light conditions to thrive.
Ultimately, adding an element of green to maximize your bedroom space adds life to the room. Plants can serve both functional and aesthetic purposes, thereby creating an environment that's fresh and spacious.
Overall, there are numerous ways to maximize space in your bedroom. It all boils down to utilizing the available space efficiently and capitalizing on various design elements to streamline functionality. Following these tips can transform your bedroom into a visually larger and well-organized space.
From Cluttered to Organized: How Self-Storage Units Can Transform Your Home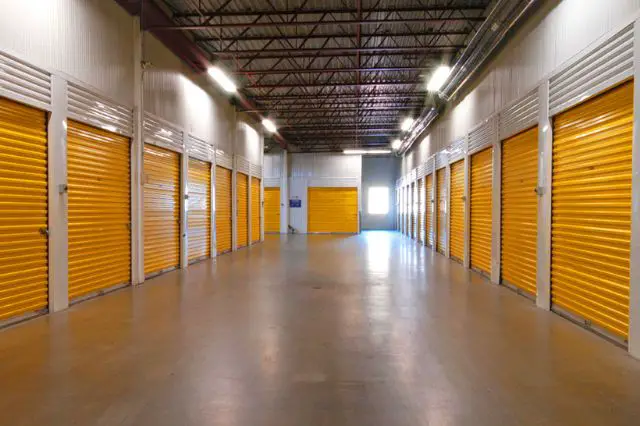 Is your home starting to resemble a chaotic maze with clutter piling up in every corner? Don't worry if it is, because we've all been there. But what if we told you that there's a magical solution that can instantly transform your living space from chaos to calmness? Yes, you heard it right! Self-storage units are the ultimate saviors when it comes to decluttering and organizing your home. In this blog post, we'll uncover the incredible ways these storage units can revolutionize your life and help you reclaim control over your space.
How self-storage can help you declutter your home
Clutter is a problem that many people face in their homes. Whether it's an accumulation of old clothes, toys, or furniture, too much stuff can make your home feel crowded and uncomfortable. If you're looking for ways to declutter your home and make it more spacious and efficient, storage units may be a good solution for you.
Self-storage units are specifically designed to store objects temporarily. This means that you can bring your belongings into the unit and leave them there while you go on vacation or work from home. Plus, self-storage units usually have large spaces that can accommodate a lot of clutter.
If you're in need of help decluttering your home but don't want to spend a lot of money on cleaning supplies or hiring professional organizers, self-storage may be the perfect solution for you. Units start at low sums per month for basic storage space, so it's affordable and easy to try out before investing in more serious storage solutions.
The types of self-storage units
Self-storage units can be a great way to declutter and organize your home. Always look for the one that will best suit your needs and be local to you.
Some self-storage units are designed for small items, while others are more comprehensive and can hold larger items. You may also want to consider whether you need climate-controlled storage or not.
After deciding on the type of self-storage unit and the size of the space you need, browse through the options to find a unit that then best suits your needs. You can either choose to visit a store in person or look online for reviews before making a decision.
If you're ready to get started decluttering and organizing your home, contact a self-storage unit company to schedule an inspection. They will help you select the right unit and give you tips on how to use it effectively.
How much storage space do self-storage units offer?
Self-storage units offer a great way to declutter and organize your home. These units come in a variety of sizes and can provide you with enough storage space to store everything from clothes to furniture.
Some self-storage units also offer amenities such as climate control, which can make it easier to keep your belongings fresh and clean. In addition, self-storage units typically have low prices, which makes them an affordable way to get organized and improve your home décor.
What to bring with you when you visit a self-storage unit
When you visit a self-storage unit, be prepared to haul your belongings in and out. Here are some things to bring with you:
– Your suitcases or boxes of clothes 
– A packing list of what you'll need to pack 
– A notepad and writing tools 
– A digital camera if you plan on taking pictures of your belongings while they're in storage 
– Your driver's license, social security card, and other important documents 
– Cash or a debit/credit card for renting items 
– A lock for your door
The benefits of using self-storage for your home
Self-storage units are a great way to declutter your home and make it more organized. The benefits include:
1. A Place for Everything – Self-storage units are perfect for storing items that you don't use often, but don't want to clutter up your regular space.
2. More Storage Space – With more storage space, you can store more belongings and have more room to decorate and organize your home.
3. Less Hassle – With self-storage, you won't have to worry about taking everything you own down every time you want to use it. Just pick up your items when you're ready to use them again.
4. Instant Organization – Having an organized home is a key part of feeling comfortable in your own space. With self-storage, you can get instant organization without any extra work or hassle.
Conclusion
Self-storage units can be a great solution. They come in all different sizes and styles, so whether you prefer climate-controlled units or outdoor spaces, there's likely a storage space that would suit your needs. Not only do self-storage units provide much-needed extra storage for items you don't use on a regular basis, but they can help organize and clean up your home at the same time. If you're thinking of storing some of your belongings to free up more space in your home, contact one of our trusted self-storage providers today!