Debunking Top 5 Myths Surrounding Hair Extensions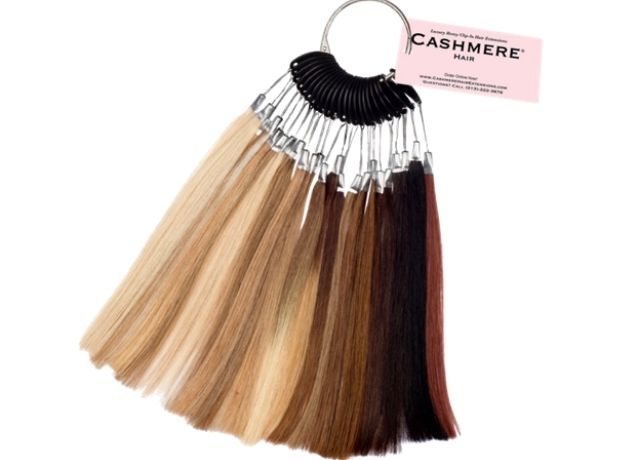 You may have observed that celebs' hair changes from pretty short bobs to incredibly long, flowing locks. It is primarily due to hair extensions. Getting stunning, long, and voluptuous hair has never been easier thanks to various modern techniques ranging from hair extensions clip in to nano rings.
Whether you are considering buying your first bundle of hair extensions or trying out a new technique, you may be intimidated by the information you get on these products. For instance, hair extensions are shrouded in many myths to make matters even more complicated. And it is necessary to gain correct knowledge.
Here are the most common hair extension myths.
Myth 1: Hair Extensions Cause Hair Damage by Pulling on the Hair
It is crucial to buy hair attachments (especially the clip in ones) that will not harm your natural hair. But how can you know if they won't? You need to find the ones with high-quality clips and equally distributed weight structures. High-quality hair clips provide a non-slip grip without pulling on the hair. When using inexpensive and low-quality clips, you may need to backcomb the hair to keep the pins in place.
Top-quality hair extensions guarantee that there will be no excessive tugging or straining on the hair, leaving you with damage-free hair extensions.
Myth 2: They Are Obvious and Look Fake
Extremely noticeable, excessively thin, or a notable textural difference from natural hair is quite a common complaint from those who dislike hair extensions. However, high-quality hair attachments are made with 100% fine quality natural human hair that is substantially beautiful compared to the low-cost attachments on the market.
Hair extensions made from good quality hair are thick from bottom to top and do not thin out at the endings. Because the texture is persistent throughout its length, they have an entirely natural appearance. With 100% real human hair extensions, you can rest assured that the hair will have the proper texture and luster that is not too shiny or too dull. It will have a genuine hair consistency with enough sheen to keep the hair looking fresh.
Here are a few styling tips to help the hair extensions clip in and natural hair merge seamlessly. For example, it will be more challenging to blend if you have a hairstyle with a very sharp line and dense hair. Softening the hairline or adding a few layers are recommended, but if you want to continue with a blunt hairstyle, add 2-3 inches of hair to keep it as natural as possible.
Myth 3: They Feel Heavy After Attaching to the Hair
To debunk this misconception, you need to understand your hair type and the appropriate extensions. While the seamless extensions are created for all hair types, they are made specifically for thin or moderate hair because they are very lightweight on the head. If you have medium-thick hair, conventional clip-in attachments are an excellent choice. You will feel gorgeous without worrying about feeling too heavy with ponytail extensions.
Myth 4: Hair Extensions Are Exorbitantly Expensive
While you do not need to spend a fortune on extensions, you shouldn't settle for the $25 option available in the stores. Simply put, you must seek out the ideal middle ground.
While the low-cost options may appear attractive, you will be glad you didn't go with them when your sumptuous high-quality extensions arrive and all your friends compliment your stunning, natural-looking hair. Keep in mind that natural hair attachments are an investment, and it is always better to spend more money on products that will be of more excellent quality and lasting. Depending on how carefully you care for your extensions, how often you use them, and other factors, they can last up to a year.
Myth 5: Hair Extensions Require a Lot of Care
Although hair extensions may appear to be high maintenance, you might be shocked to learn that hair extensions are the exact opposite. These products do not require any salon upkeep and can be worn when you wish and taken out when you don't.
Hair extensions are straightforward to maintain. Just wash them when they have excess hair product on them or if they haven't been cleaned in a while. Wash the attachments with shampoo and let them air dry, and you are ready to use them anytime.
Conclusion
Hair extensions are a great way to experiment with all the latest hairstyles without invasive and semi-permanent hair cuts. With the most common myths surrounding hair extensions debunked, you can now freely play around with them and try all the styles you always dreamt of. Rely on a professional retailer who guarantees good products and has positive customer reviews.
Ultimate Guide for Building a Daily Hair Care Routine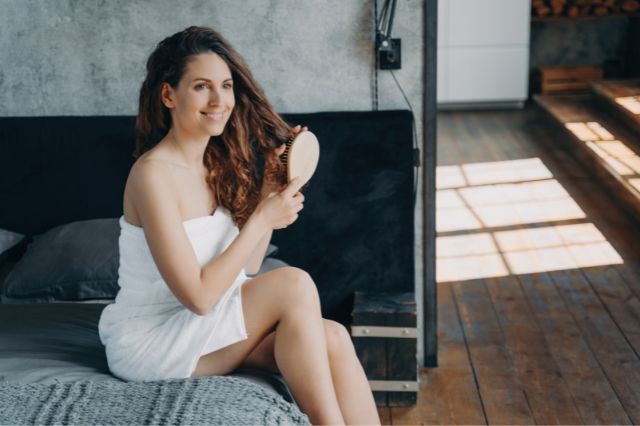 Just like how you take care of your skin, you also need to pay attention to your hair to keep it looking shiny and healthy.
It's important to have a daily routine for your hair to keep it in the best shape possible. If you have blonde hair, using the right products, like blonde shampoo, is essential.
In this guide, we'll outline the simple steps and products required for a daily hair care routine that will help your hair stay strong and look beautiful. We'll cover everything from washing to styling.
Kindly completely read this guide, and don't miss any crucial steps for better hair!
Step 1: Understanding Your Hair Type
The first thing to do for healthy hair is to figure out what kind of hair you have. Hair can be thin and straight or thick and curly, and each type needs different things to stay healthy. Knowing what kind of hair you have will make it easier for you to pick the right shampoos, conditioners, and styling stuff.
Here are various kinds of hair that you should be aware of:
Straight Hair: Usually, when your hair is straight, it tends to get oily more easily. If you don't take good care of it, it can become flat and greasy quickly.
Curly Hair: Many folks who have curly hair often find that their hair is prone to becoming dry and getting frizzy. To keep it looking good and bouncy, you need to make sure it gets enough moisture and special attention.
Wavy Hair: Wavy hair is like a mix of straight and curly hair. Sometimes, you might need special products to make it look neat and easy to handle.
Coarse Hair: Thick and rough hair can be hard to handle. To make it soft and healthy, you need to use a deep conditioner.
Fine Hair: Thin hair is fragile and can get hurt easily. It likes using light products that add volume.
Step 2: Choose the Right Products
Now that you've figured out what kind of hair you have, it's time to pick the best products for it. Here are the things you need:
Shampoo:
Choose a mild shampoo without sulfate that's right for your hair. If your hair gets oily quickly, use a clarifying shampoo. If your hair often feels dry, use a shampoo that adds moisture. Wash your hair every 2-3 days or when it starts to feel dirty.
Conditioner:
Conditioner is like a must-have for your hair. It helps make your hair soft and easy to handle. Make sure the conditioner you pick matches your shampoo. Put it on your hair from the middle part to the ends. Don't put it on your scalp because that can make your hair too oily.
Hair Mask:
To make your hair super moisturized and healthy, apply a special hair mask that gives deep nourishment once a week. This is extra important if your hair is damaged or really dry.
Leave-In Conditioner:
Leave-in conditioners are like magic for your hair. They make it easier to comb through, and they give your hair extra moisture. If your hair is curly or tends to get frizzy, these conditioners are especially great for you.
Heat Protectant:
If you often use hot styling tools on your hair, it's a good idea to get a heat protectant spray. This spray helps to keep your hair safe from the harm caused by the heat.
Styling Products:
Pick hair products like serums, mousses, or hair sprays that work well for your hair and the hairstyle you want.
Step 3: Washing Your Hair
Washing your hair is really important for keeping it healthy. Let's see how to do it the right way:
Wet Your Hair: To begin, make sure your hair is all wet with warm water. Don't use hot water because it can remove the natural oils from your hair.
Shampoo: Put a little bit of shampoo on your head. Use your fingers to gently rub it in, but don't scratch with your nails because that can hurt your scalp. Wash it off with warm water.
Condition: Put conditioner on your hair from the middle part to the ends. Wait for a few minutes to let it do its job. After that, wash it off with cool water to make your hair smooth and shiny.
Pat Dry: After you've washed your hair, use soft, clean towels to gently pat it dry. Don't rub it too hard because wet hair can easily get damaged.
Step 4: Brushing and Detangling
Taking care of your hair is really important. To do that, you need to use a wide-toothed comb or a special brush to avoid damaging your hair. Start combing from the ends and slowly move up to the top, making sure to get rid of any knots and tangles.
Step 5: Heat Styling
If you use hot tools on your hair, like hair dryers or straighteners, make sure to keep your hair safe. Use a spray that protects your hair from the heat. When you blow-dry your hair, choose the lowest heat setting. If your hair is curly, use a special attachment called a diffuser. And if you're using straighteners or curling irons, try to use the lowest temperature that still gets the job done so you don't harm your hair with too much heat.
Step 6: Treat Your Scalp
A strong and healthy scalp is like the soil for your hair to grow well. You can make your scalp happy by giving it a gentle massage using oils like coconut, jojoba, or tea tree. Massaging your scalp this way can make your blood flow better and help your hair grow better, too.
Step 7: Protect Your Hair from Environmental Damage
Sun, dirty air, and bad weather can hurt your hair. Keep it safe by wearing hats, using hair products with sun protection, and keeping your hair moisturized. Try protective hairstyles and regular haircuts for healthy hair.
Step 8: Regular Trims
Getting regular trims is important to stop your hair from splitting and to keep your haircut looking nice. You should aim to have a haircut every 6-8 weeks or whenever your hair starts looking a bit messy. This way, your hair will stay looking nice and healthy.
Step 9: Nighttime Care
Think about using a smooth silk or satin pillowcase. It helps stop your hair from getting damaged by reducing rubbing. You should also try braiding your hair or putting it in a loose bun before bedtime to keep it from getting tangled while you sleep.
Step 10: Nutrition and Hydration
The food you eat can change the way your hair looks. Eating a well-rounded diet with lots of vitamins, minerals, and protein is important for keeping your hair strong and lively. Make sure to drink enough water to keep your hair moisturized, too.
Step 11: Stress Management
Stress can make your hair not as healthy. To keep your hair in good shape, try doing relaxing things like yoga, meditation, or taking slow, deep breaths.
Step 12: Regular Checkups
If your hair is causing you problems, like too much hair falling out, dandruff, or an itchy head, it's a good idea to see a skin doctor or a hair expert. They can give you advice and treatments that are just for you.
Last tip
In brief, creating a daily hair care routine will be fruitful for your hair health. You need to know what type of hair you have and use the right products.
You can make your hair look nicer by following the instructions in this article. So, start today and enjoy the benefits of strong, shiny, and healthy hair that boosts your confidence and complements your overall well-being.
Do you have any specific questions or concerns related to hair care that you'd like to discuss? Drop them in the comments below!
Thank you for reading!
Please share these tips with your friends as well.
What Causes Dry Skin and How to Treat It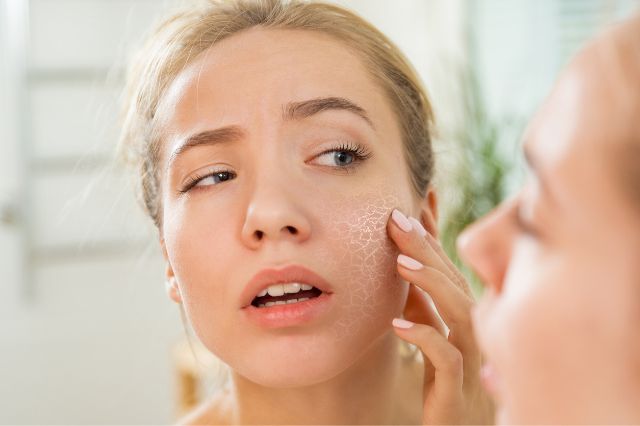 Dry skin is a common condition that affects many individuals, causing discomfort and a rough texture. Understanding the causes and implementing effective treatments can help alleviate this issue. Several factors contribute to the development of dry skin. One primary cause is the loss of water from the skin, leading to dehydration. Age plays a significant role, as our skin tends to lose moisture more easily as we grow older.
Additionally, an individual's medical history can influence their susceptibility to dry skin. Treating dry skin involves implementing changes in one's beauty routine and skincare regimen utilizing certified products from https://supermood.us/ Proper hydration is crucial; individuals should ensure they drink enough water throughout the day and use moisturizers that retain moisture in the skin effectively.
Types of Dry Skin
Dry skin is a common condition that can affect individuals of all ages. It occurs when the skin loses its ability to retain moisture, leading to a rough texture, excessive itchiness, and potential infections. Understanding the different types of dry skin is crucial to develop an effective skincare routine. One factor that can contribute to dry skin is dehydration. When our body lacks water, it can manifest through our skin. Incorporating supplements and staying hydrated throughout the day can help improve overall skin health.
What Causes Dry Skin?
Dry skin can be a common issue that many people face, and understanding the causes behind it can help in finding effective solutions. There are several factors that can contribute to dry skin, including external and internal influences. One of the main causes of dry skin is exposure to harsh elements such as extreme weather conditions or excessive sun exposure. Skin burns or stings, coupled with peeling skin, are often indicators of prolonged exposure to these elements. Additionally, certain environmental factors like low humidity levels or excessive heat can also strip moisture from the skin, leading to dryness.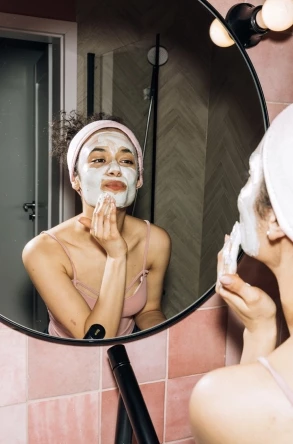 Risk Factors for Dry Skin
Dry skin can be a common concern for many individuals, and understanding the risk factors associated with it can help in preventing and managing this condition effectively. Several factors contribute to dry skin, including external irritants, lifestyle choices, and environmental factors.
Understanding the risk factors for dry skin is crucial in preventing and managing this condition. Here are some key preventive measures individuals can take:
1. Stay hydrated: Drinking an adequate amount of water helps maintain skin hydration from within.
2. Use suitable skincare products: Choose moisturizers that are specifically formulated for dry skin, as they contain ingredients such as hyaluronic acid or ceramides that help lock in moisture.
3. Practice good hygiene: Avoid using harsh soaps or hot water, as these can strip the natural oils from your skin and worsen dryness. Opt for gentle cleansers and lukewarm water instead.
4. Protect the skin from harsh environmental conditions: Cold weather, low humidity, and strong winds can exacerbate dryness. 
Symptoms of Dry Skin
Dry skin can be a common issue for many individuals, causing discomfort and irritation. Recognizing the symptoms of dry skin is crucial to effectively address and treat the condition.
One of the most noticeable symptoms of dry skin is experiencing a burning or stinging sensation on the skin. This sensation may be more prominent after bathing or exposure to harsh weather conditions. 
Can Dry Skin Cause Acne?
When the skin is dry, it tends to produce more oil to compensate for the lack of moisture. This excess oil can clog pores and lead to the formation of acne. Moreover, dryness can impair the skin's natural barrier function, making it more susceptible to harmful microorganisms like bacteria and viruses. These microorganisms can further trigger inflammation and breakouts.
To prevent dry skin from exacerbating acne, use gentle cleansers that do not strip away natural oils and follow up with moisturizers suited for your specific skin type. 
How to Prevent Dry Skin
Regularly moisturizing your skin with creams or lotions is essential to locking in moisture and preventing dryness. Look for products that contain hydrating ingredients such as hyaluronic acid or glycerin. Applying these moisturizers immediately after showering or bathing helps seal in moisture.
Taking good care of your skin involves establishing a consistent skincare routine using certified products. This includes gentle cleansing, exfoliating regularly (but not excessively), and protecting your skin from harmful environmental factors such as excessive sun exposure or cold weather conditions.
Review some preventive measures you can take to keep your skin hydrated and healthy:
1. Hydrate from within: Drink an adequate amount of water throughout the day to maintain hydration levels in your body. Staying hydrated can help improve overall skin health.
2. Moisturize regularly: Use a good-quality moisturizer suitable for your skin type. Apply it generously after bathing or washing your face to lock in moisture.
3. Avoid hot showers: Hot water can strip away natural oils from the skin, leading to dryness and irritation. Take lukewarm showers instead and limit their duration.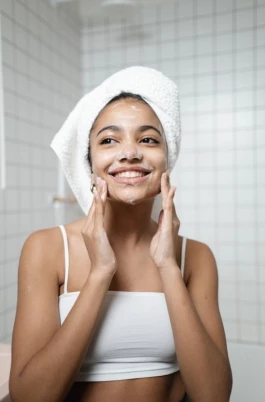 Best Supplements for Dry Skin
Dry skin can be a common and bothersome issue for many individuals. It can lead to discomfort, itching, and even skin burns or stings. Thankfully, there are several supplements available that can help improve the condition of dry skin.
One important aspect of addressing dry skin is ensuring proper hydration from within. Omega-3 fatty acids, such as fish oil supplements, are known to improve skin hydration and reduce inflammation. These supplements not only benefit the overall health of the body but also contribute to maintaining healthy skin.
Another supplement worth considering is vitamin E. Known for its antioxidant properties, vitamin E helps protect the skin from harmful free radicals and promotes healing of damaged or peeling skin. It can be found in various forms like capsules or topical creams and lotions.
6 Unconscious Habits that Might Be Aging Your Face Prematurely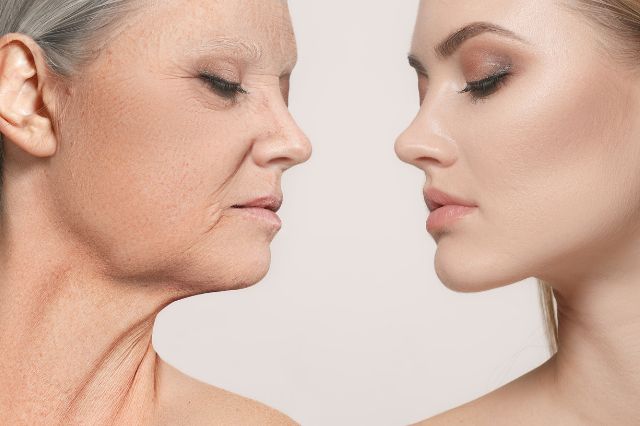 Untimely aging of your face is not just about genetics or the passing of years. Your everyday habits have a big say in how youthful your skin looks. These are the seven unconscious habits that might fast-track your facial aging and practical ways to counter their effects.
Sleeping positions
Facial sagging is a common concern as time goes by. The proteins, collagen, and elastin that lend your skin its firmness and elasticity gradually decline, leading to saggy skin. One silent contributor is sleeping on your stomach or side with your face mashed into the pillow. This constant pressure could speed up the breakdown of collagen and elastin fibers over time.
If you're noticing facial sagging, a reliable fix could be browlift surgery. This surgical remedy zeroes in on your forehead and brow regions, giving the skin a lift to restore a youthful appearance (https://browlifts.com/).
Inadequate rest
Sleep that's inadequate or subpar can take a toll on your skin. When you're in deep sleep, your body carries out cell repairs and regeneration, including the cells that keep your skin looking its best. Give sleep it's due by setting a regular sleep schedule and creating an environment conducive to slumber. Strive for 7-9 hours of uninterrupted sleep each night, allowing your body and skin the time to rejuvenate.
Sun overexposure
Too much sun exposure is a primary cause of premature aging. The sun's UV rays can impair collagen fibers, leading to a loss of skin elasticity. Over time, this manifests as wrinkles, fine lines, and age spots.
Make sunscreen a non-negotiable in your daily skincare regimen to battle the aging effects of sun exposure. Opt for a broad-spectrum sunscreen boasting SPF 30 or higher, and slather it generously on all exposed sections of your face and neck.
Inadequate hydration
Dehydrated skin is more prone to wrinkles and fine lines. When your skin lacks proper moisture, it could look dull and lackluster, accentuating the signs of aging. Drinking water throughout the day is vital to maintaining healthy, youthful skin. On top of that, include a hydrating moisturizer in your daily skincare routine. Seek out products enriched with ingredients like hyaluronic acid, which aids your skin in retaining moisture and achieving a plump, youthful look.
Repetitive facial expressions
Your muscles contract each time you make a facial expression, like smiling or frowning. Gradually, these repetitive contractions can lead to wrinkles and fine lines. Botox injections offer a sought-after remedy for diminishing the appearance of dynamic wrinkles caused by recurring facial expressions. Botox temporarily eases the muscles, halting them from contracting and generating wrinkles. The result is skin that appears smoother and more youthful.
Unhealthy diet
A diet filled with processed foods, sugary snacks, and unhealthy fats can trigger inflammation. This inflammation can manifest on your skin as acne, redness, and accelerated aging. Choose a diet abundant in antioxidants, vitamins, and minerals. Amp up your meals with fruits, vegetables, nuts, and fatty fish, equipping your skin with the nourishment it needs to remain youthful and radiant.
Final words
Aging gracefully involves more than what your genes decree. It's about diligence in battling habits that expedite aging. By addressing these habits, you'll keep your skin's youthfulness intact. Embrace a lifestyle with positive changes, nurture your skincare routine, and practice self-care to keep your face looking young and attractive.